This shop has been compensated by Collective Bias, Inc. and its advertiser, MARS Incorporated. All opinions are mine alone. #SpookySavings #BOOItForward #CollectiveBias
This Halloween Marshmallow Candy Popcorn Ball Recipe & BooKit is salty and sweet with little bursts of chocolate candy deliciousness. They are fun to eat as you bite off marshmallow gooey popcorn puffs of candy flavors. So simple to make, and the portable size is perfect for gifting in your BooKit.
I've been secretly dying inside, waiting for Halloween. Since August I've been pinning and dreaming about the holiday season. Not that I don't love summer, but this is such a magical time with the kids. I was jumping around with joy when I found out I could work with MARS® to bring you my favorite Halloween idea.
Look at the creamy marshmallow caramel with those chocolates. It tastes amazing!
Buying in bulk for the win!
This recipe and the BOOkit use a bulk bag of delicious Halloween candy. I picked up this MARS® Mad Scientist 290 piece bulk candy bag. I save so much money buying in bulk, and in my neighborhood, you can never have too much. We get a lot of trick or treaters.
This bag includes 290 pieces of:
Starburst®
M&M'S®
SNICKERS®
MILKY WAY®
3 MUSKETEERS®
One year, I bought 100 pounds of candy for Halloween night. Now with this bag that would have saved me so much money. Large packs allow members to get BOO-ing essentials on a budget.
If you want 450 pieces, I love this MARS® Bat Bag.
How fun is the look of this bag of candy? I set this out, and people that came over cheered "that is so adorable. where did you get it?"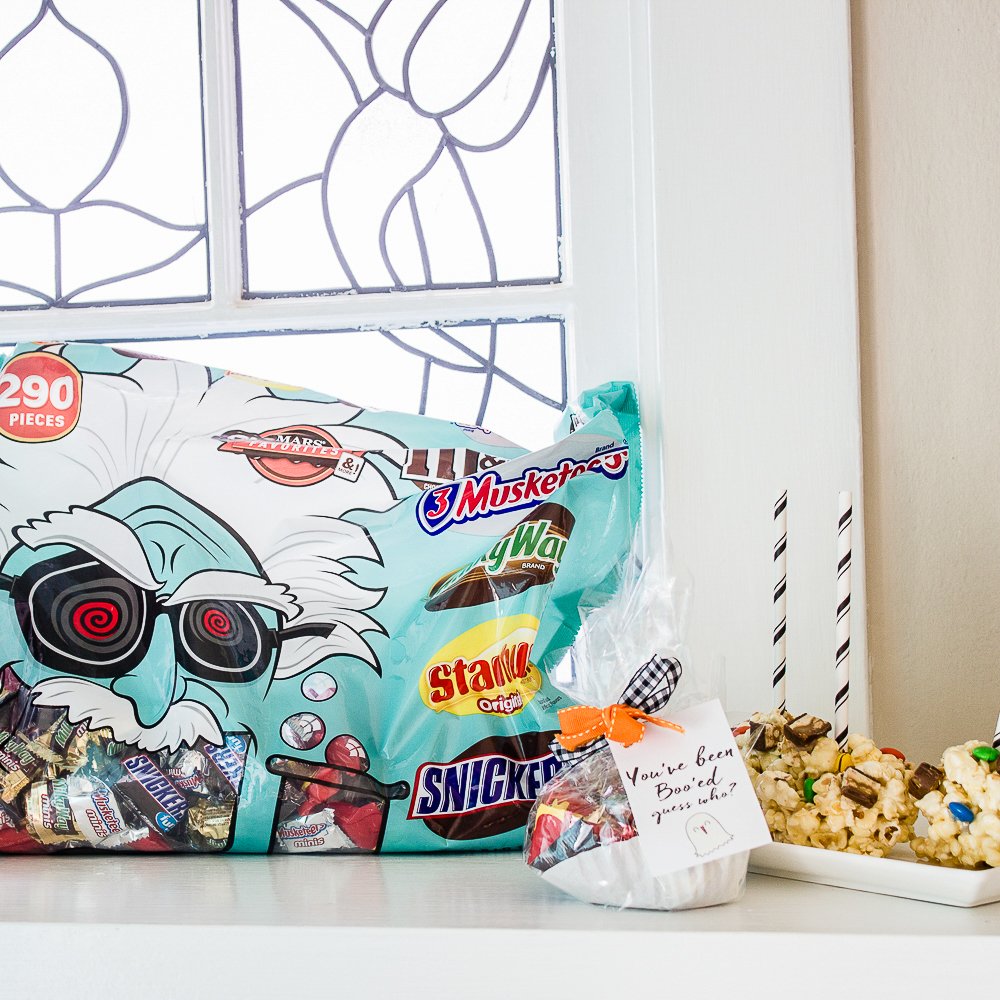 Ready to shop for some BOOtastic candy? Hover over the photo to click through to SamsClub.com to purchase!
What's a BOO-kit?
So you have made the recipe, and it's time to share. A BOO-kit is a gift you leave on someone's door with a Halloween theme. The idea is that you bring them joy and hope they pay it forward.
These popcorn balls can be packaged up with other goodies, in a basket, or in this case wrapped in cellophane!
Halloween Marshmallow Candy Popcorn Ball Recipe
Ingredients:
16 cups of popcorn (2-3 microwave bags)
1 bag of MARS® Halloween Candy
1 10 oz bag of marshmallows
1/2 cup corn syrup
1 cup Butter
Pop your popcorn
Chop the chocolate bars into 1/4 inch pieces. Lay out on a cookie sheet and add M&M'S®. Place mini pieces in the freezer for 1 hour. This will keep them from melting when you mix them with the warm marshmallow.
Melt butter, sugar and corn syrup in a medium sauce pan.
Add marshmallows and stir until they are melted
Pour mixture over popcorn, mix
Let cool enough to touch, add candy
Spray hands with cooking spray and roll into balls
Add more candy pieces
Add a cake pop stick or straw as a handle
Place on parchment paper. Makes about 17 to 18 popcorn balls
Halloween Marshmallow Candy Popcorn Ball Recipe & BooKit How-To
Now we are going to wrap these yummy treats up to send off with friends. Each will get their own package and tag. We will even make one with just candy because you may run out of balls, but you won't run out of candy!
What you need:
Halloween Marshmallow Candy Popcorn Ball Recipe
Cellophane
Ribbons
Construction paper
290 piece MARS® Bat Bag or 590 piece MARS® Mad Scientist Bag of candy
After cooling, place popcorn ball into the cupcake wrapper. Add a cake pop stick, place it in a cupcake wrapper, add a tag, and tie with a bow. Voila!
Wrap in Cellophane
Print tags onto cardstock, and cut to size
Tie up each package
Take extra candy and wrap just the same. Add those to your BOO as well.
Free Printables for your Halloween Marshmallow Candy Popcorn Ball & BooKit
Do you want to get this "You've been BOO-ed guess who? tag.
What about the other tags here like "Hey, BOO."
Free Printable! What!
These printables are for personal use only.
If you use the guess who, tag you will give your friends a fun surprise, they always guess me, so I don't know how much I need to tell them who it is. However, you don't want to wait too long to tell them, or you can even write on the back of your note. Because well, they may not eat it if they don't know where it came from — still the most fun to give them a few hours to think about it.
These treats last 2-3 days, so there is your timeline.
You can use our shoppable image or run out to a Sams Club to get your MARS® Mad Scientist. I can't wait to see your pics of your Halloween Marshmallow Candy Popcorn Ball Recipe & BOOKit.